Traditional Insurance
Innovative, cost-effective insurance solutions don't come out of the box. They are developed with expertise based on client needs and goals.
The cornerstone of Capstone Management Group's insurance division is the capability to deliver quality insurance products, product components, and distribution as a single source. Since 1982, businesses have relied on our unrivaled knowledge of insurance practices and proven relationships to build and manage insurance solutions tailored to their needs.
Our focus: proven underwriting systems and superior claims management. We provide a full range of insurance services, including:
product design
administration
actuarial
reinsurance placement services
Capstone Management Group provides customized insurance products for a wide range of clients through their company, Leeds & York.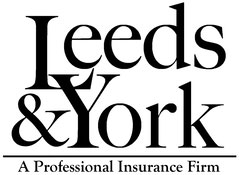 Leeds & York
Leeds & York is a full-service insurance company offering customized packages in a variety of industry sectors, including: Medical Malpractice, Property, General Liability, Captive Programs, Surety, Bonds, Professional Liability, Automobile, Life, Health, Homeowners, Umbrellas, Equipment, Builders Risk, and OCIP / WRAP.